EDIT MAIN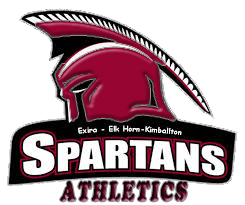 At Exira - EHK School District, we believe that participation in school clubs and athletics can teach students new skills and build teamwork, character, and discipline. Our goal is to allow all students the chance to develop their talents and build character as they try different sports and activities. We invite students and parents to find ways to get involved with school activities and athletics. It's a great way to represent your school and have fun at the same time.
Team State Qualifiers
2013 Football - 8 Man - State Runner-Up
2013 Girls Cross Country
2012 Football - 8 Man
2011 Football - Class A
2011 Boys Basketball - Class 1A
2010 Football - Class A
Individual State Qualifiers
We are home to some of the best athletes in the state of Iowa. We recognize their hard work and are proud they call themselves Spartans!
Spartan Conference Accomplishments
Though we are small, we can compete with the best! Just take a look at our conference titles!
2014
2013
Girls Track
Girls Golf
Boys Golf
2012
Girls Basketball
Boys Basketball
Girls Track
Boys Track
Girls Golf
Softball
Baseball
Football - District 7
2011
Boys Basketball
Girls Track
Boys Track
Softball
Baseball
Football - District 8
2010
Girls Track
Boys Track
Softball
Baseball
Athletic Directors
Tom Petersen
Athletic Director
P: (712) 764-4606
tompetersen@exira-ehk.k12.ia.us
Tony Petersen
Assistant Athletic Director
P: (712) 764-4606
tpetersen@exira-ehk.k12.ia.us